Storage Talk | 13 Things to Know About Living in Jacksonville
13 Things to Know About Living in Jacksonville
by Vince Mancuso | June 30th, 2015 | 0 comments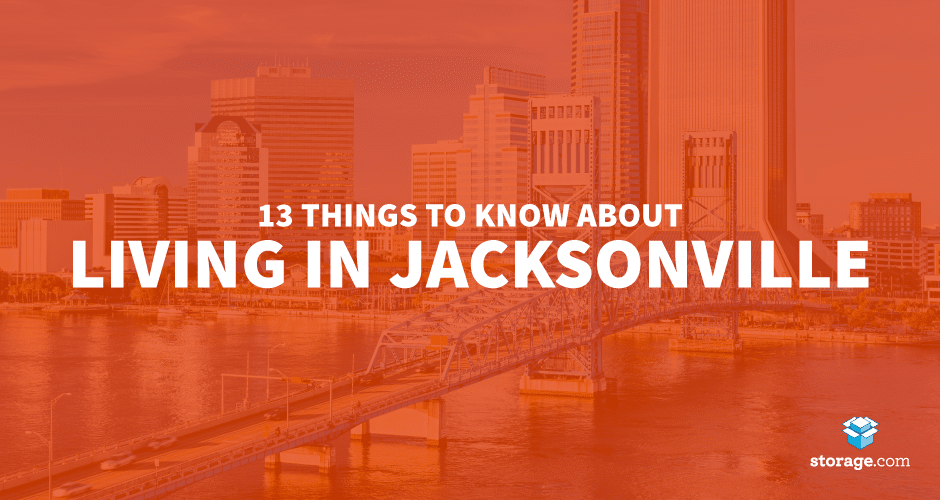 By Vince Mancuso, Storage.com
Are you looking to move Jacksonville? With more than 850,000 residents in the city, Jacksonville is the largest city in the state of Florida. It's home to a healthy mix of colleges, military, job opportunities, and attractions fit for the whole family. If you're looking to live "Where Florida Begins," then here are some things to know about living in Jacksonville.
1. JACKSONVILLE IS REALLY BIG.
Photo by James Willamor
Sounds simple, right? Chicago is big, New York City is big, but Jacksonville is really big. Due to the city deciding to consolidate the entire county in 1968, Jacksonville is roughly 874.3 square miles, making it the largest city in the contiguous United States. With so much space, there's also a plenty of neighborhoods to live in. Families and retirees can especially appreciate Northside, which, despite being close to Downtown, is relatively rural and quiet. Young professionals enjoy Riverside, just south of downtown, due to proximity to trendy restaurants and shops. Meanwhile, anyone who can't escape the call of the water lives across the ditch—a term assigned to the Intracoastal Waterway—in The Beaches, which includes the Jacksonville, Atlantic, and Neptune beach areas.
2. SEEING GROWTH IN MORE WAYS THAN ONE.
Photo by amateur photography by michel
According to Forbes, Jacksonville ranks fifth among the top cities for finding employment as of May, with most jobs available in the logistics and industrial industry. Jacksonville is also home to four Fortune 500 companies, such as the rail-based transportation CSX Corporation, financial giants Fidelity National Financial and Fidelity National Information Services, and grocery retailer Southeastern Grocer. With both land and space to fill, Jacksonville had the most population gains in Florida this past year. The recent population growth has also made Jacksonville the 12th largest city in the nation.
3. YOU CAN FIND PARKS EVERYWHERE.
Photo by Rob Bixby
Jacksonville has the largest urban public park system in the country with more than 335 locations spread across more than 80,000 acres of land throughout the city. Locals love quiet spots like Memorial Park in the Five Points area, just south of downtown. Described as "simply peaceful," Memorial Park is a great place to bring a blanket to read in the sun, people watch, or to walk your dog on the circular path, all right next to the St. John River. Able to shoot 17,000 gallons of water per minute in its' hay day in 1965, the Friendship Fountain in St. John's River Park is a beautiful scene at night when it lights up in an array of colors.
4. REMEMBER THE BEACHES.
Photo by DeusXFlorida
Sure, The Beaches were mentioned earlier, but it's worth extrapolating that residents have access to 20 miles worth of white, sandy beaches. With so much shoreline to share, there's no doubt you'll find a beach for you. For instance, Jaxsons love to head a bit north to Little Talbot Island State Park to experience the scenic and natural beauty of the park and beachfront, with plenty of shells to collect. For something closer to town, locals love to relax at the laid-back Neptune Beach and enjoy the friendly little shops and restaurants. You can also check out Mickler's Beach, known for being fun for the whole family and a place where you can bring your fishing rod, surfboard, and your dog—all for free.
5. IF NOT THE BEACH, THEN ENJOY THE WATER.
Photo by Rob Bixby
Jacksonville is in an ideal location for those who love the water. Not only is just out of reach for most hurricanes, the city grants access to both the Atlantic Ocean and the St. John's River, which is the heart of the city. Locals love to do it all: water ski, jet-ski, surf, swim, kayak. The biggest and most nationally recognized activity, however, is fishing. It's worth noting that you can't call it "fishing" in River City unless you bring home a keeper, otherwise you were just hanging out by the water. Jaxsons take their fishing very seriously, as seen with the Greater Jacksonville Kingfish Tournament.
6. ENJOY THE WATER AT NIGHT WITH THE LIGHT BOAT PARADE.
Photo by Rob Bixby
The River City loves the water so much that they'll even use it as a way to kick-off the holiday season. Each November, Jaxsons launch into the holiday season with the Jacksonville Light Boat Parade. This parade draws in thousands of people as hundreds of boats pass by the landing, all of which are covered in Christmas lights and bedecked in decorations. In addition to boats of all shapes and sizes, the night is capped off with a fireworks display over the water. The best part? All admission to this event is free for guests and locals alike to enjoy.
7. MUSIC IS BORN IN JACKSONVILLE.
Photo by amateur photography by michel
The first record of "blues" singing was in a report of a LaVilla performance on April 16,1910. Later on, Jacksonville's Ritz Theatre would become a mecca for African-American culture it still is today. The Harlem of the South has hosted jazz legends such as Louis Armstrong, Cab Calloway, and Ella Fitzgerald. In more recent years, Jacksonville was the home of bands such as The Pretty Ones—nationally recognized as Lynyrd Skynyrd— as well as the Allman Brothers, both of which formed in the late 1960s. The love of music is still alive today as locals look forward to annual music festivals such as Springing the Blues Festival each spring at Jacksonville Beach or enjoy one of the largest jazz festivals in the country with the Jacksonville Jazz Festival, which brings in more than 100,000 visitors each year.
8. YOU HAVE TO TAKE AN ART WALK.
Photo by Rob Bixby
Chances are if you see someone with something cool, they bought it at the Art Walk. Downtown Jacksonville is home to a number of trendy attractions, and one of the most well-known events is the Jacksonville Downtown Art Walk, which takes places on the first Wednesday of every month. Walkers can enjoy and purchase art such as handmade accessories, recycled art, jewelry, and painting.
9. FOODS ONLY FOUND IN JACKSONVILLE.
Photo by Maple Street Biscuit Company
As true with most cities in the United States, Jacksonville has claims to truly unique restaurants of it's own. Locals love to catch breakfast at the Maple Street Biscuit Company. This restaurant has its own take on breakfast, one that screams the south and is made, as on Yelper put it, "with love and butter." If you go, you have to try the squawking goat: a flaky biscuit with all natural fried chicken breast, smothered in a fried goat cheese medallion and house-made pepper jelly. For something a bit more upscale, try BB's, which serves up new American dishes, desserts, and a bar that offers both an extensive wine collection and cocktails. Jaxsons love BB's and recognize it as local institution, a place that all locals should enjoy. You'll enjoy whatever you order, but be sure to start with the coconut milk braised pork belt, which will melt and your mouth while simultaneously fill it with flavor.
10. JAXONS LOVE FOOTBALL.
Photo by Keith Allison
That's right, you better not be making any Jaguar jokes here, because the fans are loyal through and through. Despite a less-than-successful career history, Jaguar fans still come out to cheer their beloved NFL team each season. While no one doubts the loyalty to the jags, a greater divide can be seen between the Florida State University Seminoles and the University of Florida Gators. You must decide who to cheer for, and it cannot be both.
11. SPEAKING OF GATORS, YOU MAY WANT TO WATCH OUT…
Photo by John Regan
Kidding, of course. Sure, alligators are a part of Florida, but you can at least experience them in an exciting way through the St. Augustine Alligator Farm. This zoological park has been around for more than a century and offers guests a chance to check out albino alligators, crocodiles, a Komodo dragon, and fossils as well as a number of exotic birds. You can also capture a great experience with these creatures through the Crocodile Crossing: two challenging zip-line courses that spread across seven acres. As you pass through obstacles, you'll have live alligators and crocodiles waiting—*cough*—wading right beneath you.
12. VETERANS WELCOME IN JACKSONVILLE.
Photo by Rob Bixby
Jacksonville is home to a multiple military installations, such as the Jacksonville Nas/Towers Field and the Mayport Naval Station. These installations, in addition to the nearby Naval Submarine Base Kings Bay, give Jacksonville the third largest military presence in the United States, and it doesn't go unnoticed by Jaxsons. The city is home to the Veterans Memorial Wall, which is one of the largest in the country. This 65 foot-long granite monument pays tributes to the servicemen and women from World War I through Operation Desert Storm of all six branches of the military, which include the Coast Guard and Merchant Marines. Additionally, each year the Wall serves as the site for the city's Memorial Day ceremony, where local service members who were lost that year are added to the list.
13. A LONG HISTORY.
Photo by Doug Kerr
The first European settlement, Fort Caroline, was established by the French in 1564, though the Spanish eventually took over in 1565 and made St. Augustine the most important settlement in Florida. While you can still experience historic sites such as Castillo de San Marcos today, it's important to note that the area has a much earlier history, such as a team from the University of North Florida having discovered the oldest remnants of pottery in the country, which date back to 2500 BC.
To see more from the United States relatively young history, you can check out the Karpeles Manuscript Library, only one of ten in the country. This library has a collection of important and rare books that date from the late 1800s to early 1900s.
Is there anything we missed? Let us know in the comments below!
All images have either been provided by a listed organization or are licensed under the Creative Commons.