Vintage Household Tips
Vintage Household Tips:
Here are some tried and true vintage household tips from the 40's and 50's:
Old powder puffs are handy for cleaning and polishing silverware. They won't scratch the delicate metal.
Soak neglected paint brushes in hot vinegar to clean and make them as pliable as new.
Prevent ice trays from sticking in the freezer by rubbing a little salt on the bottom of the trays before putting them into the freezer.
Clean oilcloth by wiping it off with a little milk.
White window shades may be cleaned with magnesia. Spread a sheet on the floor, unroll the shade and with a soft cloth scrub the shade with magnesia and water.
When putting away delicate white summer things or linens, wrap in blue tissue or a well-blued cloth. This will prevent them from turning yellow.
An ordinary paper plate, glued to the bottom of the paint can, will prevent paint from getting on the floor.
When you crack a favorite dish or plate, put it in a pan of milk and boil it for 45 minutes. Not only will the crack usually disappear - the dish will actually become stronger.
When glassware develops nicks on the edges, rub them smooth again with fine sandpaper.
To stop leaks in vases or bric-a-brack, pour melted paraffin over the leaky spot and let it harden.
Keep bread fresh by putting it in a bag with a piece of celery.
If you need a wide piece of wax paper, seal two strips together with a hot iron; it cools quickly.
An old pair of white gloves works great for cleaning the slats on venetian blinds. Slip the gloves on and rub between the slats.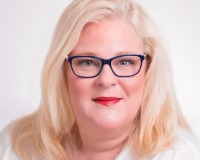 Author:
Lesley Vitel
Phone:
904-534-8052
Dated:
January 2nd 2015
Views:
360
About Lesley: Lesley's career in real estate officially began in 2005 when she partnered with her mother Lynn (A v...